Archery in Yorkshire
The purpose of the Yorkshire Archery Association is to promote and support the sport of archery in Yorkshire.
The YAA is the county affiliation body for clubs in Yorkshire.
The YAA represents Yorkshire's archers at the regional and national levels.
The YAA is affiliated to the Northern Counties Archery Society and the Grand National Archery Society (Archery GB).
The YAA has the largest number of affiliated clubs of any English county organisation.
The YAA organises several tournaments each year including the indoor and outdoor county championships.
The YAA selects and manages the Yorkshire county teams.
The YAA maintains records of the highest scores achieved in the various disciplines of archery practised in the county.
Welcome!
Welcome to the website of the Yorkshire Archery Association.

Latest news

Notifications of updates

YAA tournaments

This site
---
YAA funding
for teams participating in the National Midsummer Team Tournament 2014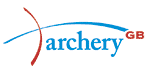 ---
The YAA's new Danage timing system is available for use by YAA clubs: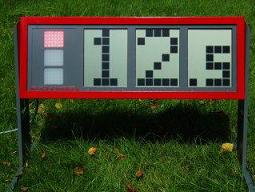 ---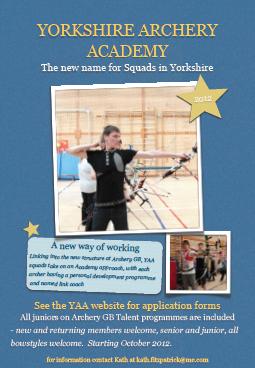 Want to be alerted when a news item appears on this site or a significant change is made? Send an email to yaa@phoenixbowmen.co.uk with the subject line "Subscribe". Once we've confirmed that you want to receive emails from us, we'll add you to the mailing list of people to notify. Your email address will ONLY be used for this purpose and no other.
If you have any suggestions for the site or would like it to feature details of your club or event, please contact the webmaster.
20 July 2014: The Bowmen of Adel are trying to track down several trophies from their shoots:


Missing Bowmen of Adel trophies
17 July 2014: Yorkshire's juniors performed well at the Junior National Outdoor Championships. Simon Slater has provided photos and a report:


JNOC 2014
15 July 2014: Amy Oliver won stages 3 and 4 of the National Series at the weekend, and has been selected to represent GB at the European Archery Championship:


Amy triumphs at Clophill and heads for Armenia
SRSB Sheffield Blind Archery will host its coaching weekend for blind and partially sighted archers on the 2nd and 3rd of August:


Coaching weekend for visually impaired archery
Danielle Brown has been inducted into the Worshipful Company of Fletchers:


Dani awarded the Freedom of London
12 July 2014: Richard Ford has become Yorkshire's latest Regional Judge:


Richard Ford - Regional Judge
6 July 2014: The results of the Double FITA are now available:


NCAS/YAA Double FITA Star 2014 results
5 July 2014: Will Kempf has provided a report and photos of the Yorkshire teams at the National County Team Tournament, including an excellent silver for the gents longbow team:


Yorkshire Longbows Win Silver!
Chantry Bowmen have published the results of today's Chantry Sword shoot:


Chantry Sword 2014 results
3 July 2014: The next Archery Strike event will be held in Glasshoughton on the 10th of July:


Archery Strike event in Glasshoughton
29 June 2014: The Bowmen of Adel will be holding their End of Season Westerns on the 7th of September:


Bowmen of Adel End of Season Open Tournament
27 June 2014: Yorkshire has 11 new Level 1 coaches:


11 More Level 1 Coaches in Yorkshire
Ten juniors from YAA clubs will be competing at the Junior National Outdoor Championships:


YAA Juniors at JNOC 2014
York Archers Society have released the results of their Double York/Hereford:


York AS double York/Hereford 2014 results
22 June 2014: St George's Archery Club have published the results of their Open Westerns:


St George's Open Western 2014 results
19 June 2014: The Archery GB Talent Festival is now open for applications from any junior recurve archer aged 17 or under who would like to take part:


Archery GB Talent Festival, 18th-22nd August, Lilleshall
Selby Archers will be holding their 4th Shootdown on the 25th of October:


Selby Archery Club 4th Indoor Tournament
13 June 2014: Martin Middleton (Aardwolf Archers) has received the Yorkshire Award:


Martin Middleton receives the Yorkshire Award
Burton Constable Company of Bowmen have published the results of their Medieval Longbow shoot:


Burton Constable CoB Medieval Longbow 2014 results
9 June 2014: Barnsley Archery Club have published the entry forms for their September shoots:


Barnsley AC's 25th Open Longbow Tournament (27 September 2014)


Barnsley AC's 27th Open Albion and Windsors (28 September 2014)
6 June 2014: The results of the YAA Single FITA and Championships have been added to the site:


NCAS/YAA FITA Star 2014 results


YAA County Championship 2014 results
Gareth Beeby has become Yorkshire's latest Regional Judge:


Gareth Beeby - Regional Judge
2 June 2014: The details of the YAA's committee members have been updated:


YAA committee
31 May 2014: Archers of East Riding have published the results of their Clout Weekend shoots:


AER Clout Weekend 2014 results
26 May 2014: The YAA has decided to apply a £5.00 bloc fee for disabled clubs instead of the current £3.00 per person:


YAA disabled clubs affiliation fees 2014-2015
25 May 2014: Valley Bowmen opened their impressive new pavilion today:


Valley Bowmen May 2014
Clare Spencer has received the Yorkshire Award:


Clare Spencer receives the Yorkshire Award
Danum Archers will be holding the Top Town shoot on Sunday the 10th of August:


Danum Archers Top Town Trophy Shoot
23 May 2014: Congratulations to Izzy Carpenter of Barnsley Archery Club, who today won bronze as part of GBR's compound cadet ladies team at the European Outdoor Youth Championships in Ljubljana, Slovenia:


Izzy wins bronze for GBR
Selby Archery Club have released the results of their Open Westerns shoot:


Selby Archery Club Open Westerns 2014 results