Calling all Yorkshire Juniors!
The first squad session will be held at a different venue from usual owing to to building works at the Haxby Scout Centre. The new venue is the indoor venue for the Bowmen of Leeds:
Miners Welfare Hall
52 Main Street
Garforth
LS25 1AA
YAA juniors not currently in a YAA squad are welcome. Full details:

Yorkshire Junior Squad Training
Archery in Yorkshire
The purpose of the Yorkshire Archery Association is to promote and support the sport of archery in Yorkshire.
The YAA is the county affiliation body for clubs in Yorkshire.
The YAA represents Yorkshire's archers at the regional and national levels.
The YAA is affiliated to the Northern Counties Archery Society and the Grand National Archery Society (Archery GB).
The YAA has the largest number of affiliated clubs of any English county organisation.
The YAA organises several tournaments each year including the indoor and outdoor county championships.
The YAA selects and manages the Yorkshire county teams.
The YAA maintains records of the highest scores achieved in the various disciplines of archery practised in the county.
Welcome!
Welcome to the website of the Yorkshire Archery Association.

Latest news

Notifications of updates

YAA tournaments

This site
---
The YAA's new Danage timing system is available for use by YAA clubs: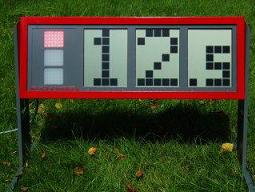 ---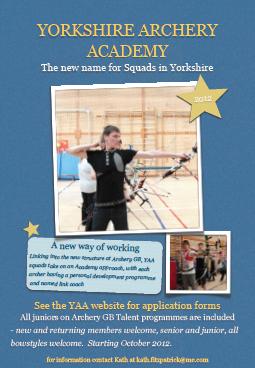 Want to be alerted when a news item appears on this site or a significant change is made? Send an email to yaa@phoenixbowmen.co.uk with the subject line "Subscribe". Once we've confirmed that you want to receive emails from us, we'll add you to the mailing list of people to notify. Your email address will ONLY be used for this purpose and no other.
If you have any suggestions for the site or would like it to feature details of your club or event, please contact the webmaster.
20 October 2014: The results of the National Clout Championships have been released:


National Clout Championships 2014 results
The Selby Shootdown, due to take place on Saturday the 25th of October, has been cancelled owing to lack of entries. Selby AC thank all those archers who did enter.
19 October 2014: Archers of Bridlington and Burton Agnes will hold their ABBA Dabba Do longbow shoot on the 14th of March:


Archers of Bridlington & Burton Agnes 4th ABBA Dabba Do Longbow Shoot
18 October 2014: Chantry Bowmen have published the results of their Great Western shoot:


Chantry Bowmen Great Western Tournament 2014 results
Just a couple of spaces remain at the Selby Shootdown (Saturday 25th October):


Selby Archery Club 4th Indoor Tournament
13 October 2014: Richard Watts has received the Yorkshire Award:


Richard Watts receives the Yorkshire Award
The results of Saturday's York Archers Society October Clout shoot is now available:


York Archers Society October Clout 2014 results
Greenman Archers have published the results of yesterday's Yorkshire Pudding shoot:


Greenman Archers Yorkshire Pudding Shoot 2014 results
12 October 2014: A gallery of photos from today's Greenman Yorkshire Pudding Shoot has been added to the site:


GreenMan Yorkshire Pudding shoot 2014
The target list for Saturday's National Clout Championships is now available:


National Clout Championships target list (PDF)
11 October 2014: White Rose Archers have published the results of their Sherry Shoot:


White Rose Archers Sherry Shoot 2014 awards


White Rose Archers Sherry Shoot 2014 results
A full recurve kit based on a right-handed KG Kudos has been added to the Small ads page:


Kudos-based recurve kit (right handed)
7 October 2014: The first junior squad session (25th October) will be held at a different venue from usual:


Yorkshire Junior Squad Training
The NCAS Postal League for juniors will be running again this winter:


NCAS Junior Indoor Postal League 2014-15
A gallery of photos from the weekend's Inter County Tournaments has been added to the site:


Inter County Tournaments 2014
Barnsley Archery Club have published the results of their recent tournaments:


Barnsley AC Longbow Western 2014 results


Barnsley AC Albion & Windsors 2014 results
York Archers Society will hold their Double Portsmouth on the 23rd of November:


York Archers Society Double Portsmouth
4 October 2014: Yorkshire's juniors impressed at today's NCAS Five Counties Juniors Match:


YAA juniors at Five Counties 2014
Chantry Bowmen will hold the Audrey Lawrence Memorial Double Worcester on the 7th of December:


Chantry Bowmen Audrey Lawrence Memorial Double Worcester
Savile Bowmen will hold their record status Double Portsmouth on the 1st of February:


Savile Bowmen 23rd Indoor Tournament
A full recurve kit based on a left-handed Hoyt Eclipse has been added to the Small ads page:


Eclipse-based recurve kit (left handed)
30 September 2014: In response to some common errors on the YAA and NCAS subscription returns, the YAA Treasurer has provided guidance to clubs on completing the affiliations correctly:


YAA/NCAS affiliations 2014/15
A gallery of photos from Sunday's Barnsley AC Albion & Windsors has been added to the site:


Barnsley Albion and Windsors 2014
The latest edition of Clout Times is now available:


September 2014 Clout Times
27 September 2014: The Bowmen of Adel request your help in tracking down a missing trophy:


Missing Adel trophy
The British Indoor Barebow Championships 2014 will include a venue at neighbours Rochdale Company of Archers:


British Indoor Barebow Championships 2014
Rochdale have released the results of their Charity Clout:


Rochdale CoA Charity Clout 2014 results
23 September 2014: YAA Juniors again feature largely in the new cohort for the Northern group of the National Performance Academy:


YAA Juniors for National Performance Academy