Archery in Yorkshire
The purpose of the Yorkshire Archery Association is to promote and support the sport of archery in Yorkshire.
The YAA is the county affiliation body for clubs in Yorkshire.
The YAA represents Yorkshire's archers at the regional and national levels.
The YAA is affiliated to the Northern Counties Archery Society and Archery GB (the Grand National Archery Society).
The YAA has the largest number of affiliated clubs of any English county organisation.
The YAA organises several tournaments each year including the indoor and outdoor county championships.
The YAA selects and manages the Yorkshire county teams.
The YAA maintains records of the highest scores achieved in the various disciplines of archery practised in the county.
The YAA presents awards in recognition of service to archers and clubs in Yorkshire.
Welcome!
Welcome to the website of the Yorkshire Archery Association.


Latest news


YAA constitution


Affiliations 2023-2024


Notifications of updates


YAA events


This site



Follow us on Facebook

YAA constitution, amended March 2022 (DOC)

YAA and NCAS affiliation fees and process 2023-2024


YAA and NCAS affiliation status of clubs 2023-2024
Arrowhawks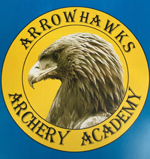 Arrowhawks Archery Academy has been launched to provide national talent development and academy programmes to Yorkshire



Arrowhawks booklet (PDF)
Danage timing equipment
The YAA's new Danage timing system is available for use by YAA clubs: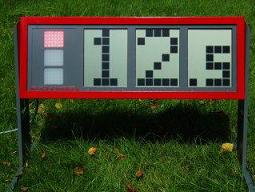 Want to be alerted when a news item appears on this site or a significant change is made? Send an email to

yaa@phoenixbowmen.co.uk with the subject line "Subscribe". We'll add you to the mailing list of people to notify. Your email address will ONLY be used for this purpose and no other.
If you have any suggestions for the site or would like it to feature details of your club or event, please contact the

webmaster.
3 December 2023: Chantry Bowmen have had to postpone today's Audrey Lawrence shoot:


Chantry's Audrey Lawrence shoot postponed
2 December 2023: The YAA Indoor Championships will be hosted by York Archers Society on the 23rd of March:


Yorkshire Archery Association Indoor Championships 2024
28 November 2023: York Archers Society have released the results of their Double Portsmouth:


York Archers Society Double Portsmouth 2023 results
Chantry Bowmen have issued the results of the D&DAA Indoor Championships:


Chantry D&DAA Indoor Championships 2023 results
20 November 2023: South Leeds Archers have published the results of Part 1 of their Indoor Ring Series:


South Leeds Archers Indoor Ring Series part 1 - The Fellowship of the 10 Rings - 2023 results
18 November 2023: The NCAS Coaching Conference will he held in Barnsley on the 21st of January:


Regional coaching conference
De Notton Bowers have announced the details of their 2024 longbow tournaments:


De Notton Bowers Longbow Western


De Notton Bowers Hereford Longbow Competition


De Notton Bowers Longbow Albion
11 November 2023: Chantry Bowmen have issued the target list for their Audrey Lawrence shoot:


Audrey Lawrence Memorial Tournament 2023 target list
5 November 2023: Archers of Bridlington and Burton Agnes have issued the results of their indoor tournament:


Archers of Bridlington and Burton Agnes Indoor Tournament 2023 results
31 October 2023: A pair of Border Hex 7.5H limbs has been added to the Small ads page:


Border Archery HEX 7.5H ILF limbs
A set of nine Easton A/C/E 470 arrows has been added to the Small ads page:


A/C/E 470 arrows
A set of twelve Easton A/C/E 570 arrows has been added to the Small ads page:


A/C/E 570 arrows
York Archers Society have published the results of their October Clout:


York Archers Society October Clout 2023 results
30 October 2023: The Bowmen of Adel and the YAA will present the second Yorkshire Ironman tournament on the 30th of December:


YAA/Bowmen of Adel Yorkshire Ironman 2023
25 October 2023: The affiliation status of the county's clubs has been updated:


YAA and NCAS affiliation status of clubs 2023-2024
Chantry Bowmen's Audrey Lawrence Double Worcester is now full and a waiting list is in effect:


Audrey Lawrence Memorial Tournament 2023
22 October 2023: A full compound kit based on a Kinetic TriumX bow has been added to the Small ads page:


Kinetic TriumX Compound (RH) 40-60lbs kit
13 October 2023: Chantry Bowmen have published a report and the results of their Great Western longbow shoot:


Chantry Great Western 2023 report


Chantry Great Western 2023 results
13 October 2023: The Yorkshire Junior Postal League is back for winter 2023-24:


Yorkshire Junior Indoor Postal League 2023-2024
10 October 2023: White Rose Archers have published the results of their Autumn Longbow shoot:


White Rose Archers Crazy Autumn Longbow Shoot 2023 results
26 September 2023: York Archers Society will hold their Yorkshire Combined indoor shoot on the 17th of February:


York Archers Society Yorkshire Combined 2024
Danum Archers have a new website:


Danum Archers
18 September 2023: Chantry Bowmen will hold the UKRS Audrey Lawrence Double Worcester on the 3rd of December:


Audrey Lawrence Memorial Tournament 2023